Tim Clark dons his hard hat to visit a construction training centre that its founders hope will capture the hearts and minds of the next generation
I think I've crashed my mini-digger. It's beeping and vibrating, though it might be because I exited the cab without turning the engine off. In short, I'm probably fired, and the Health and Safety Executive is going to have a field day. Or I would be if this was a real site.
I am, in fact, in an air-conditioned room escaping the UK's July heatwave by having a go at a construction simulator. Behind me, the co-founders of the facility are soaking up my poor attempts at being a plant operator by occasionally breaking into fits of laughter. The simulation is one of several programmes used on courses at Accxel, a Gloucestershire training centre established by two local sisters.
Construction News visits the Forest of Dean facility to find out how Accxel's training differs from the norm and about its ambitious plans for capturing the next generation of workers.
Natalie King and Nicola Bird say the initial spur to set up Accxel came from the frustration of being unable to find adequately trained workers for the family business, KM Bell, an £80m contractor founded by their grandfather, which operates across Wales and the South West from its base in Cinderford, Gloucestershire.
Bird, Accxel's founder and managing director, notes that construction can be "cliquey" in nature, making it more of a challenge to get workers into a classroom.
"People get into construction because they often know somebody who can give them a job. If you tell them [construction workers] to go to college or university, they often won't go – they feel completely intimidated. But, because this is for construction by construction people, they feel much more like they belong here. We have [a] range of ages from 22 to 60, and some haven't been in a classroom since they left school."
Bringing in contractors
Accxel aims to overhaul the way training is conducted by bringing in contractors. Apprentices who sign up are matched with an employer and should have a job to go to when they qualify.
King, Accxel's growth and partnership director, says: "People who come out of FE [further education] college or get their one-day Construction Skills Certification Scheme card are not industry-ready. This was about putting a marker in the ground and saying 'we are going to change the face of construction'.
"All apprentices that come have guaranteed employment ready when they leave. We take the recruitment headache away from the employer. And, for people who want to come into the construction industry, it opens doors."
"All apprentices that come have guaranteed employment ready when they leave. We take the recruitment headache away from the employer"

Natalie King, Accxel
Having initially trained as a beautician in Cardiff, Bird had spent four years at the family construction business when she saw there was a patch of land adjacent to KM Bell's main office lying vacant. She devised a groundwork training programme in 2017, and with two temporary offices, one at that site in Cinderford and the other in Cardiff, some 23 apprentices started training in 2018. In January 2020, 15 trainees qualified.
This course served as a precursor to subsequent training offered by the company, which was launched fully in 2020. Its next raft of apprentices is due to start in September, while another cohort is halfway through a training programme that involves obtaining an NVQ. Bird continues to work for Bell, as safety and business development director.
King, who trained initially as a barrister, left the legal profession to work as a land manager for Kier Living, rising up the ranks of the contractor's former housing arm before joining her sister at Accxel. Five years and a pandemic later, Accxel has moved from the two temporary office buildings into a £3m training centre. The company aims to train up to 2,000 people per year on a range of construction courses.
Like airline pilots
On its groundworks course, apprentices will be put through their paces on a purpose-built mock live site, which includes block paving, slab paving, and a street detection area littered with pipes and utilities that has been designed to be difficult to survey.
Bird says: "When they [apprentices] are doing their ground-penetrating radar or cable detection, it can be put in different modes, so by isolating different sources [it's] making it like what they could find on a brownfield site. It really stress-tests the equipment and by doing so it also stress-tests the learner."
Bird contrasts this with other classroom training, which, she says, lacks the same real-world character.
During my attempt at the simulation, up to five different types of plant machinery, from diggers to dumper trucks, can be linked up to work together on one virtual construction site. I was tasked with placing five rocks from a work site into a skip. After somehow lifting half a tonne of extra mud with my first rock, the second just fell back down into the ever-expanding hole I was creating.
The point of the exercise wasn't just to learn how to operate the machine, but to do so as efficiently as possible prior to stepping into a real cab. Bird's philosophy on this is simple: "Airline pilots learn on simulators, so why not builders?"
"We work together with businesses to improve the skills crisis. The more we work together, the quicker we can close the gap"

Nicola Bird, Accxel
The sisters say that more than 800 people have passed through its doors since it launched. The facility received a £1.96m government grant via the local enterprise partnership business group GFirst. This was bolstered by £1m from Bell itself.
Since launching, Accxel has partnered with 33 firms with a total combined revenue of £2.5bn. These partners pledge to take on between one and four apprentices per year. And the numbers continue to grow. Recent sign-ups include the National Federation of Builders and local civil engineering firm Galtec.
Bird says: "KW Bell is signed up in the exact same way as the other employer partners. This was extremely important to Accxel as we work together with businesses to improve the skills crisis. The more we work together, the quicker we can close the gap."
Getting young people interested
Another main task for the sisters is to change how young people perceive the construction industry. "My 10-year-old already has perceptions of construction," King says. "With females, it is key to change those perceptions really early on."
Accxel has a goal of women making up 15 per cent of its apprentices by 2027. Bird says that for its JCB Plant course, the rate currently stands at 20 per cent.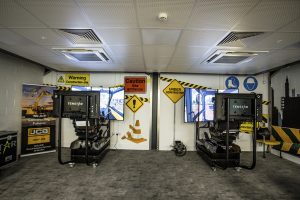 "We can't just train people – we need to inspire and bring new people in. We need to upskill people already there and [we] need to connect the education world to the real work of industry," Bird explains.
"A lot of training in construction is transient. Construction has these massive multimillion-pound projects. They'll have construction training hubs, but [only] for however long they're there, and then they pack up and go. Where is that place that you can still go for learning? There needs to be schools like this in every county, as it's part of the community," she adds.
To help change perceptions of the construction industry, the duo plan to transform a site adjacent to the current Accxel building as a play-inspired education centre for children and families.
King says: "It is like Techniquest [a scientific education centre], but for construction. There will be a place to bring kids, so they can touch things, try things – there will be a whole modular home there."
The centre is also working with a local primary school to teach and inspire their students.
"We found that with Year 10s it was too late," King states. "Secondary school was too late. Kids have their perceptions of construction and they are set. Construction still has that stigma around it, so we need to go a little bit younger."