The funding will help bring to life a planned new £3.5bn neighbourhood at Silvertown on land in Newham that has been derelict for the last 40 years.
A joint venture between Lendlease and Starwood Capital is planning to build 6,000 new homes and support the creation of 1.8m sq ft of business workspace and cultural and community buildings in a new town centre for the Royal Docks.
The loan financing will support the delivery of a new pedestrian and cycle bridge across Royal Victoria Dock, linking the site to Custom House, the restoration of the iconic Millennium Mills and the repair of the dock walls themselves, which have previously been a barrier to development of the scheme.
Alongside this, new public realm will provide local people with access to the water at the Royal Docks via new bridges, wider canal walkways and jetties.
Peter Freeman, Chair of Homes England, said: "Our commitment to the Silvertown project is another example of how we can work with the private sector to bring forward large, complex sites and help to transform them into the places of the future.
"This infrastructure funding will enable The Silvertown Partnership to create new communities in the heart of East London and bring swathes of derelict brownfield land back to life."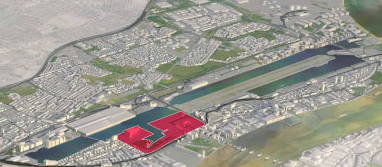 Silvertown development zone which is one of the largest brownfield sites in London's historic docklands.